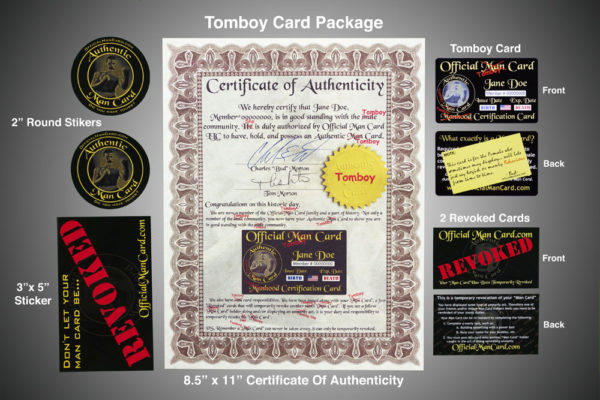 Official Tomboy Card
Do You Know A Lady Or Girl Who Could Arm Wrestle You And Chug A Beer Without Batting A Make-Up Covered Eye? A Lovely Lady That Could Take Your Man Card By Force? Well Give Her She This Truly Unique Gift. The Worlds Only Authentic Tomboy Card!
This is a tangible, hold in your hand, plastic Credit Card style Tomboy Card Printed With Her Name, Unique Member Number As Well As The Flag of your Country.
So We Ask You: Does She Have Hers?
It comes with:
Authentic Tomboy Card
Certificate Of Authenticity
2- Revoke Cards
2 – 2″ Round Man Card Seal Stickers
1 – 3″ x 5″ "Don't Get Revoked" Sticker
Do Not Forget Your Friends And Family !!!
When You Order any combination of 4 or more Man Card, Tomboy Card or Women Authorization to Revoke Packages at any one time, each one will come with an extra 10 pack of revoke cards.

That's a $7.00 value each for FREE!
ALL ORDERS SHIP IN 1 TO 3 BUSINESS DAYS.