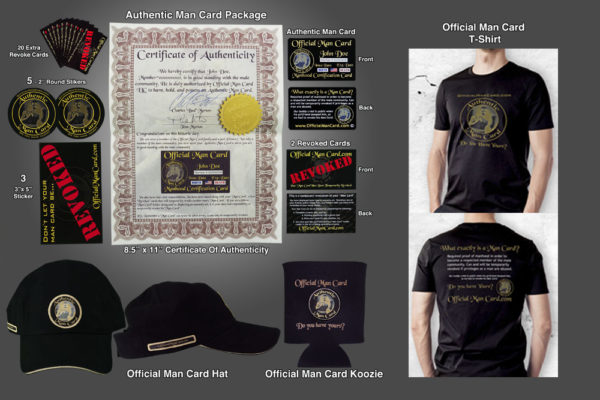 Official Man Card Armageddon Package
The World Might Be Ending Soon, And How Will You Survive? With The Official Man Card Armageddon Package!
It Comes With:
Worlds Only Authentic Man Card
Official Man Card Hat
Official Man Card Shirt
Official Man Card Koozie
20 Pack of Extra Revoked Cards
5 – 2″ Round Man Card Seal Stickers
3 – 3″ x 5″ "Don't Get Revoked" Stickers
Do Not Forget Your Friends And Family !!!
When You Order any combination of 4 or more Man Card, Tomboy Card or Women Authorization to Revoke Packages at any one time, each one will come with an extra 10 pack of revoke cards.

That's a $7.00 value each for FREE!
ALL ORDERS SHIP IN 1 TO 3 BUSINESS DAYS.
Please Note: In the case where a man card is ordered for a Lady, a Tomboy Card will be shipped.